A Vacant Building in Chicago

In writing about vacant buildings and storefronts in Oak Park, one would think that I've neglected to mention vacancies in Chicago. Whenever I show friends the Crown Fountain at Millennium Park, they always ask about a darkened Venetian Gothic building across Michigan Avenue. It's the former Chicago Athletic Association; opened in 1894, architect Henry Ives Cobb.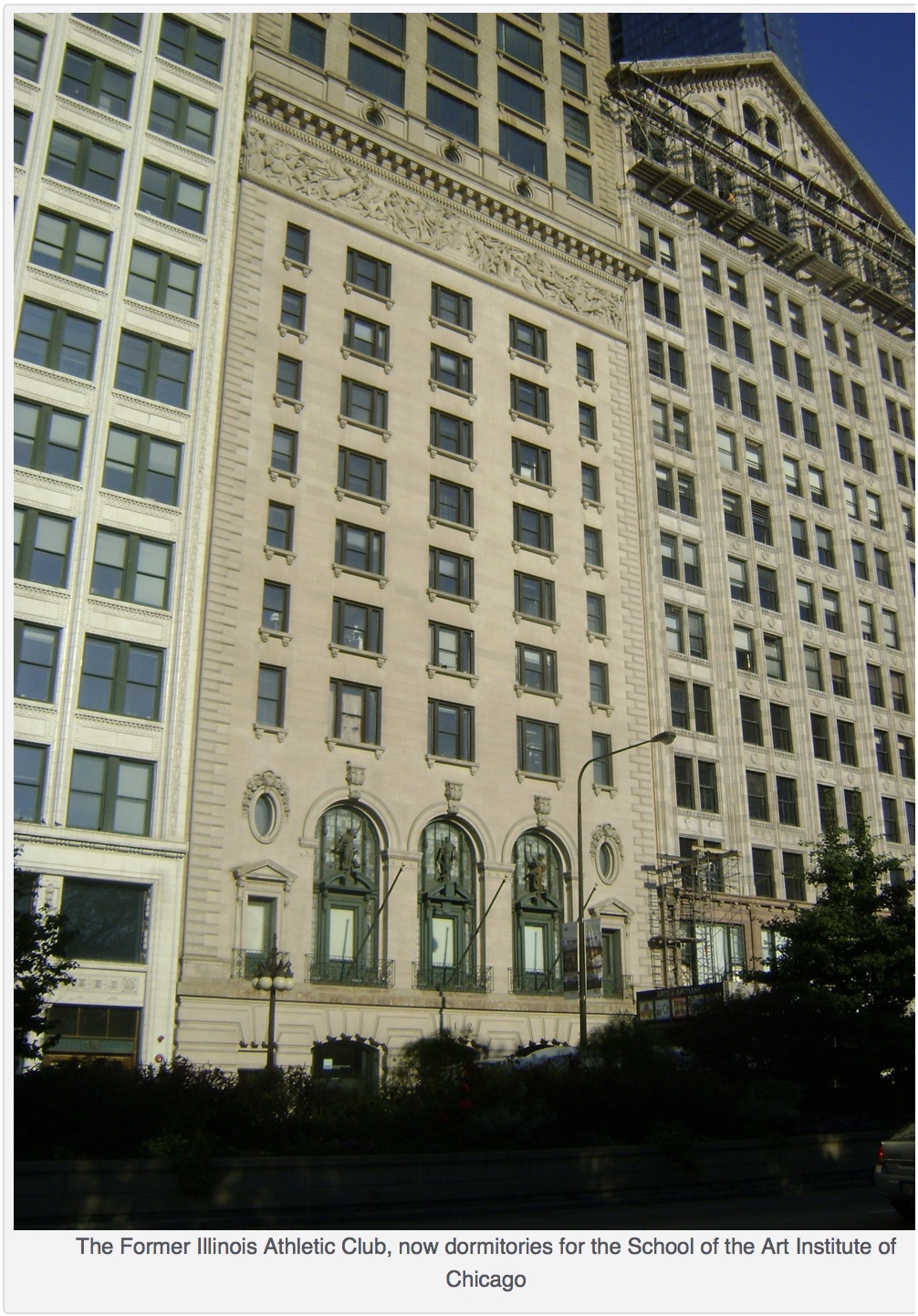 The Chicago Athletic Association was a gentlemen's club, made up of the who's who of Chicago at the time. Marshall Field was a member, the office building that bore his name was half a block north. At one point, there was a ten year waiting list to become a member, it was that sought after. It was to have opened in time for the 1893 Columbian Exposition and World's Fair, but was just a bit late. Everyone's human. In the mid 1920's, a hotel wing was added to the building, the architecture firm being Schmidt, Garden and Martin – Hugh Garden being a transplant to Chicago from Toronto. To this day, the CAA clubhouse commands a breathtaking view of Lake Michigan.

A couple years ago, a friend brought me to have lunch in the Dining Room, introducing me to various members who were part of the 1960 US Olympic Team. They trained at the CAA. That was back when private clubs like this sponsored Olympians, and would-be Olympians trained in the splendour of very exclusive, very urban facilities.

To mark my own place in history, I believe that I may be one of the last few to have swam a mile in the pool. A friend was a member, who found a way to get me in before the Club closed. I swam in the same pool as did Al Capone and Bill Thompson, separated by a few decades.


The exclusive gentlemen's clubs of Chicago – and other clubs of that era – defined their members. The members of the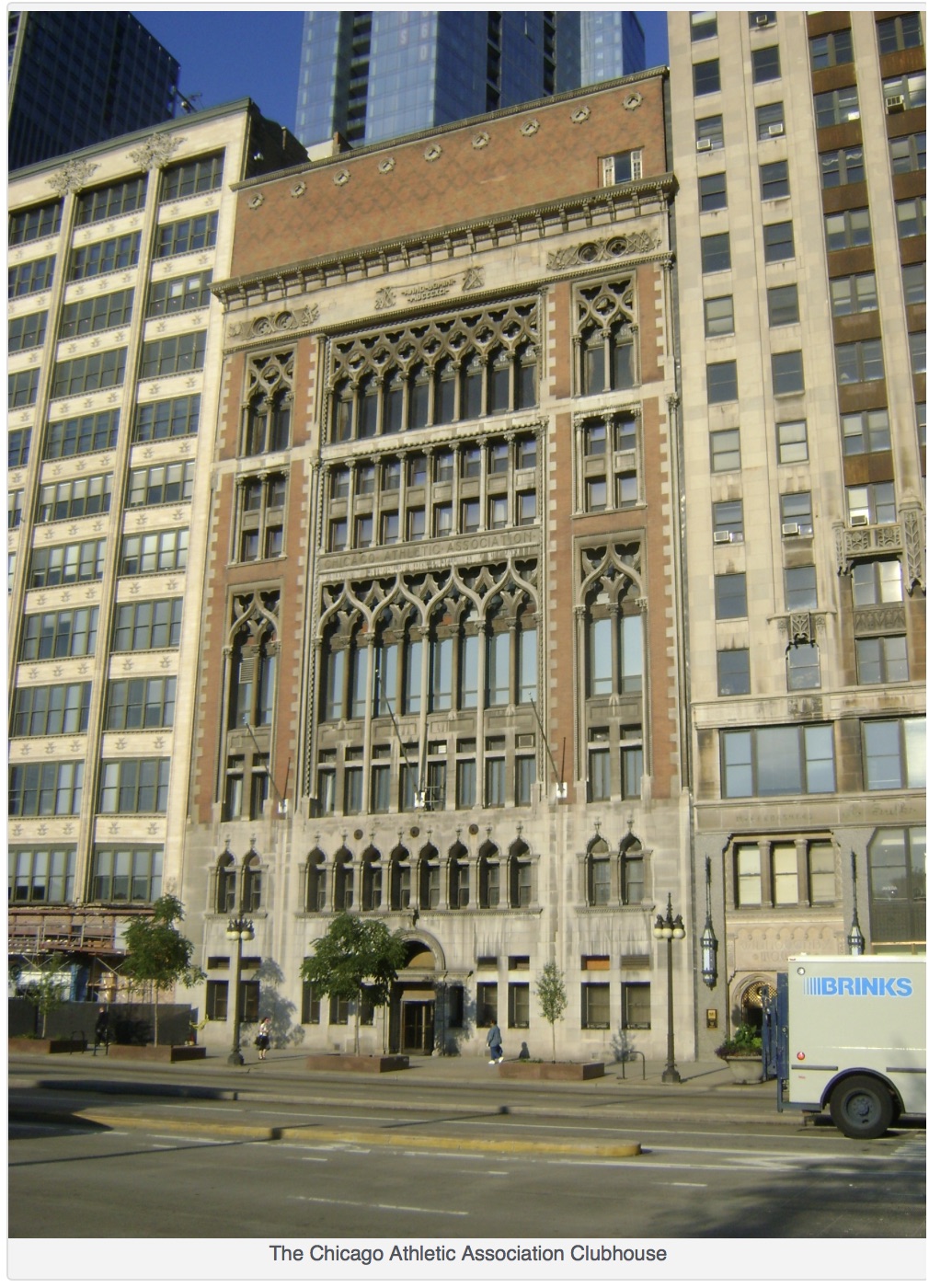 Chicago Athletic Association were very different than were the members of the Illinois Athletic Club, just a block south on Michigan Avenue; those members were very different from those of the Union League, or the Germania Club, and so on. Modern day Chicagoans network differently – they live further away, and have a multitude of distractions and entertainment sources that didn't exist a century ago. Most of the old clubs have withered away, remembered only in folklore.

The Chicago Athletic Association was affected too. Its membership shrank, the clubhouse became increasingly expensive to properly maintain. When a condominium developer offered a princely sum to the membership to purchase this building, they accepted. The building has sat empty ever since, the condominium market having taken a nose dive.

My bit of urban folklore to throw into the mix? The CAA sponsored various athletic teams around Chicago; they once granted permission to a fledging, northside baseball team they sponsored to use the CAA logo on their uniforms under the agreement that the CAA would never charge this team for the logo's use or display. While the CAA has folded, this baseball team (to remain nameless) is wildly popular though its success is arguable; the team itself is fetching an even more princely sum to continue, even though it's never won a title or pennant in memory.
Written by Darrel G. Babuk, Architect AAA, NCARB, MRAIC