A Perfectly Suburban Afternoon

Christopher Hume, the architecture critic for the Toronto Star newspaper, recently wrote of his ten most favourite streets in the "905 area code", a euphemism for the Toronto suburbs. True to the title, he wrote only of the streets, not of specific buildings on the streets, but of the streets themselves, and how the backdrop of architecture contributed to the ambience.
Now, Oak Park is a nice town. Like any Chicago neighbourhood, it has nice, but not great, streets. I grew up with an insatiable admiration of Frank Lloyd Wright and that period of about twenty years or so that came to be known as the Prairie School. Now that I live in Oak Park, and am surrounded by landmark Prairie School architecture, I have an understanding of why it only lasted twenty years or so. It's very formal, predictable and dare I say boring, after twenty years or so.

I've grown to like mid century modern design. Oak Park has a couple notable mid century modern houses, but they stick out like a sore thumb and it's doubtable if these days that they would ever make it past the litany of committee approvals required in this town.

Come to think of it, neighbourhoods of mid-century modern design usually don't have great, walkable streets, though they quite likely have streets that are sensational to experience at higher speeds, in motion.
Thinking of mid century modern in the Chicago area, we have Flossmoor, Lake Forest, the Illinois Institute of Technology campus – all wonderful communities, but hardly known for delightfully sensual, engaging and walkable streets.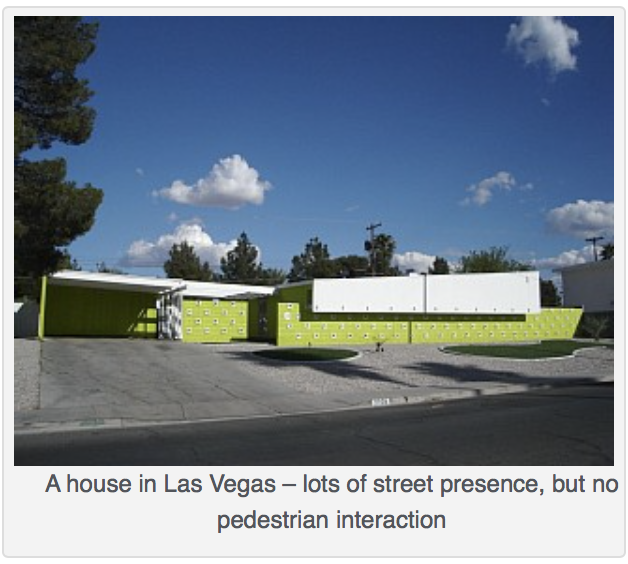 Granted, the Chicago area isn't really known for mid century modern. Some of the greatest mid century modern works appear in the "desert communities" – like Las Vegas or Palm Springs. Definitely not walkable streets, but sensational to drive at night.

British historian Reynar Banham used to refer to this as the "architecture of energy", Regina architect Clifford Wiens described this as being "motion is the aesthetic of modern man".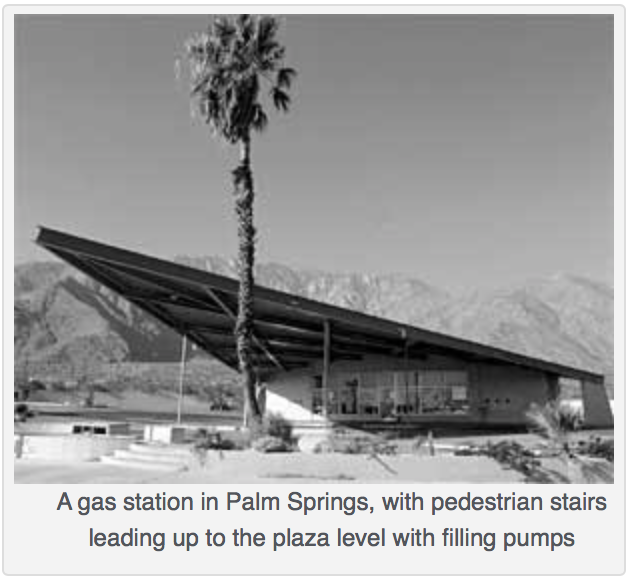 Mid century modern buildings are quite fabulous to experience – they were big on defining spaces through abstract elements that could be imagined as all sorts of things. This concept of mid century modern supported exuberant stand alone buildings, separated by other stand alone and equally exuberant buildings by non descript space.

Mid century modern spaces are inward and private, not public.

Even the 1962 Seattle World's Fair – a very mid century modern event – defined its spaces in relatively private ways by turning its back to existing, defined streets and creating "plazas".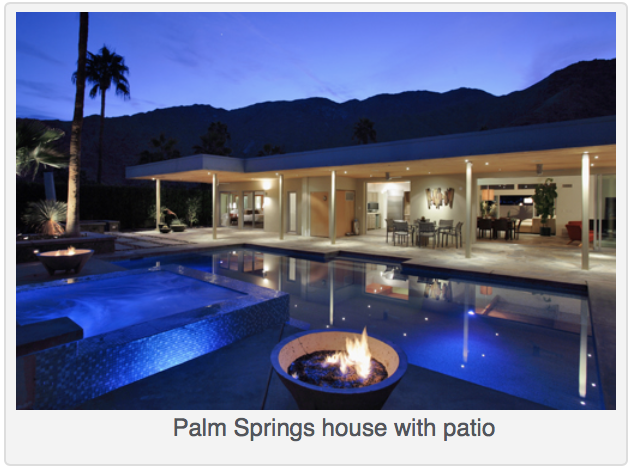 Perhaps on of the best examples of exuberant architect and a walkable street could be Frank Lloyd Wright's JC Morris Gift Shop on Maiden Lane in San Francisco. The street would be walkable regardless what someone built on it. Frank Lloyd Wright's wall – however beautiful and elegant – really doesn't contribute to the street in a constructive and supportive way.
While I'm a great fan of both walkable streets and exuberant architecture, finding the two together in harmony is a rare occasion.



Written by Darrel G. Babuk, Architect AAA, NCARB, MRAIC